Kobe, JAPAN / April 8th, 2022  – TreeFrog Therapeutics, a French-based biotech company aimed at making safer, more efficient and more affordable cell therapies based on induced pluripotent stem cells (iPSCs), today announced the incorporation of its Japanese subsidiary (KK) TreeFrog Therapeutics Japan and the establishment of a lab in Kobe, at the Creative Lab for Innovation Kobe (CLIK).
Incorporated in Bordeaux, France, in 2018, TreeFrog Therapeutics introduces a breakthrough technology for the development and bioproduction of iPSC-derived cell therapies: C-StemTM. With the view of protecting stem cells from external stress and providing them with in vivo-like cell culture conditions, the C-StemTM technology consists in seeding iPSCs into biomimetic micro-capsules. Within these protective micro-environments, stem cells can achieve optimal growth in large-scale bioreactors, and can be differentiated into ready-to-transplant 3D microtissues.
With this disruptive technology, TreeFrog Therapeutics emerged in 2021 as one of the most promising biotechs in the field of iPSC-derived cell therapies. The company announced a world-first in June 2021 – with the production of a single batch of 15 billion iPSCs in a 10L bioreactor within 7 days, with unprecedented exponential growth and best-in-class cell quality.
In addition to addressing the scalability and quality bottlenecks of cell therapy industry, TreeFrog Therapeutics' C-StemTM technology creates opportunities to generate unique cellular products. For instance, the company demonstrated that its 3D neural microtissues enhance graft integration and accelerate motor function recovery in preclinical models of Parkinson's disease. Aiming at a first clinical trial in Parkinson's disease in 2024, TreeFrog Therapeutics is currently expanding its pipeline of cell therapies through co-development partnerships, in the field of cardio-metabolic disorders and immuno-oncology.
Already well-integrated within the Japanese ecosystem, TreeFrog Therapeutics seeks to strengthen its ties with academic and industry players in Japan:
"Japan has been pioneering iPSCs and their clinical applications for the past 15 years. With this new lab in Kobe, which should be fully operational by the end of 2022, we aim at demonstrating to our Japanese academic and industry partners the benefits of the C-StemTM technology for the development and mass-production of safer, more efficient, and more affordable iPSC-derived cell therapies. We are delighted to be the first French biotech to join the Creative Lab for Innovation Kobe (CLIK) and are very grateful to the Kobe City and Hyogo Prefecture for supporting our development in Japan." Frédéric Desdouits, PhD, chief executive officer, TreeFrog Therapeutics.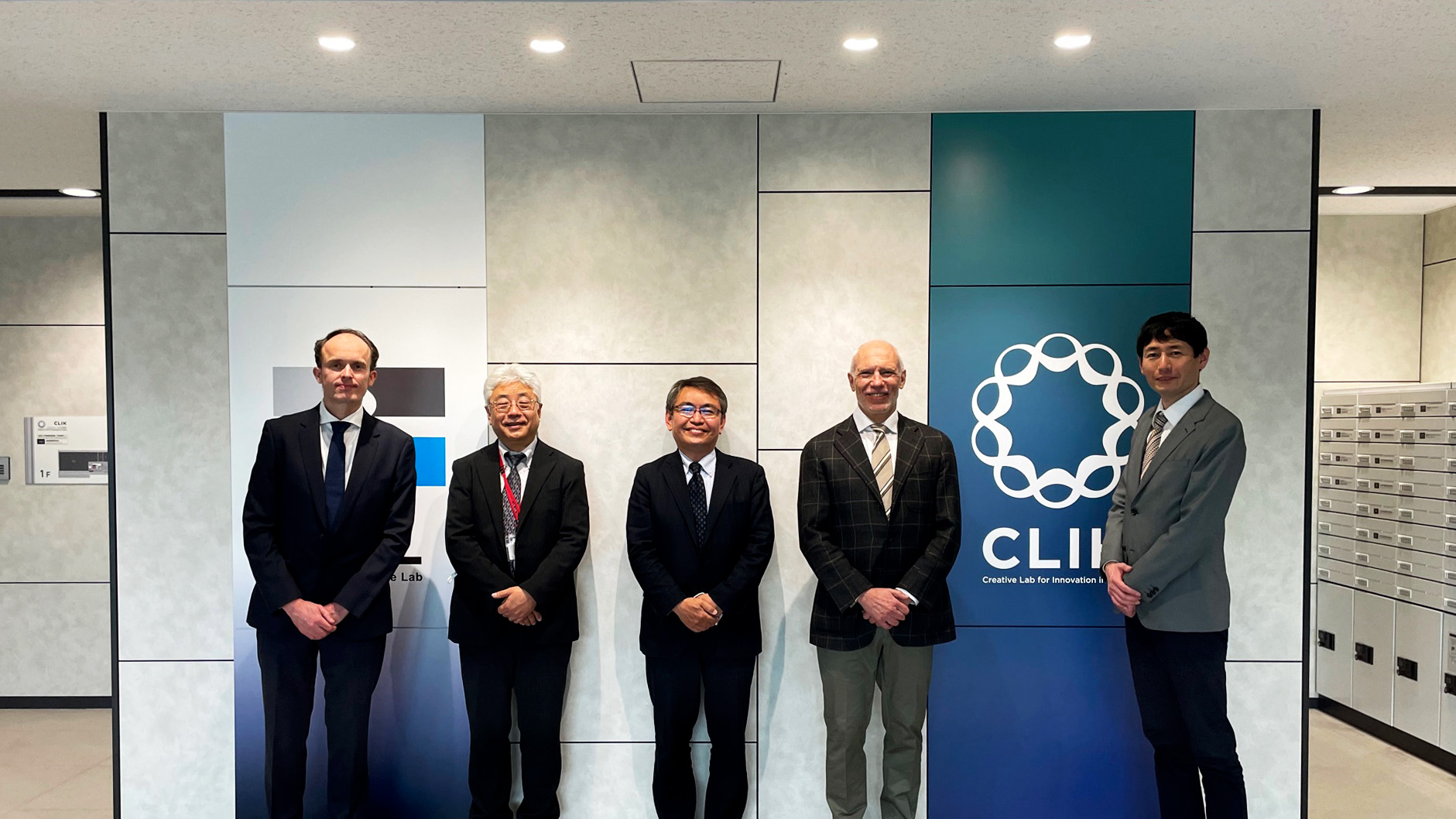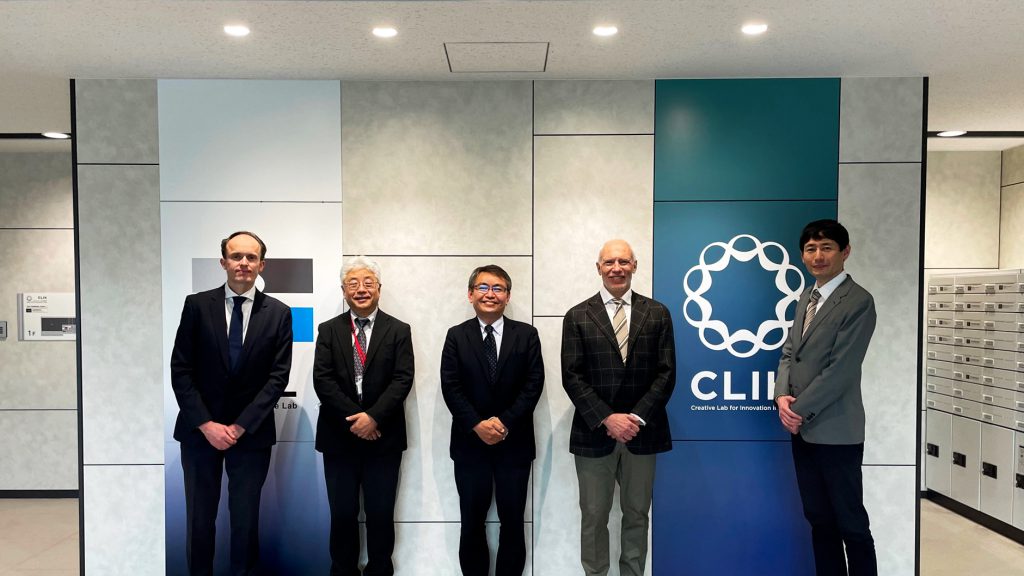 François RENAULT-MIHARA, Pharm.D, PhD, Lead Scientist Neuro/Lead Scientist Japan, TreeFrog Therapeutics Japan KK; Shin KAWAMATA, MD, PhD, Director of the Research & Development Center for Cell Therapy, Foundation for Biomedical Research and Innovation (FBRI) Kobe, Japan; Masao KAKIUCHI, Director General, Investment and New Business Promotion, City of Kobe; Fabien DEBAECKER, CEO, TreeFrog Therapeutics Japan KK; Koji OMAE, Manager, Foreign Investment Group, City of Kobe.
About TreeFrog Therapeutics
TreeFrog Therapeutics is a French-based biotech company aiming to unlock access to cell therapies for millions of patients. TreeFrog Therapeutics is developing a pipeline of therapeutic candidates using proprietary C-StemTM technology, allowing for the mass production of induced pluripotent stem cells and their differentiation into ready-to-transplant microtissues with unprecedented scalability and cell quality. Bringing together over 80 biophysicists, cell biologists and bioproduction engineers, TreeFrog Therapeutics raised $82M over the past 3 years to advance its pipeline of stem cell-based therapies in the field of neurodegeneration, cardio-metabolic disorders, and immuno-oncology. The company is currently opening technological hubs in Boston, USA, and Kobe, Japan, to drive the adoption of C-StemTM and initiate co-development partnerships with leading academic, biotech and industry players in the field of cell therapy.
Since 2018, TreeFrog Therapeutics has been actively participating to the Japanese Society for Regenerative Medicine and the Link-J consortium, and is a Supporting Member of the CiRA Foundation. In 2020, TreeFrog Therapeutics launched a collaboration on iPSC quality with the Foundation for Biomedical Research and Innovation at Kobe (FBRI) and the Harvard Stem Cell Institute, which was awarded by the prestigious Prix Galien MedStartup Prize in New York.
Media Contact
TreeFrog Therapeutics

Pierre-Emmanuel Gaultier – +33 645 774 258 – pierre@treefrog.fr